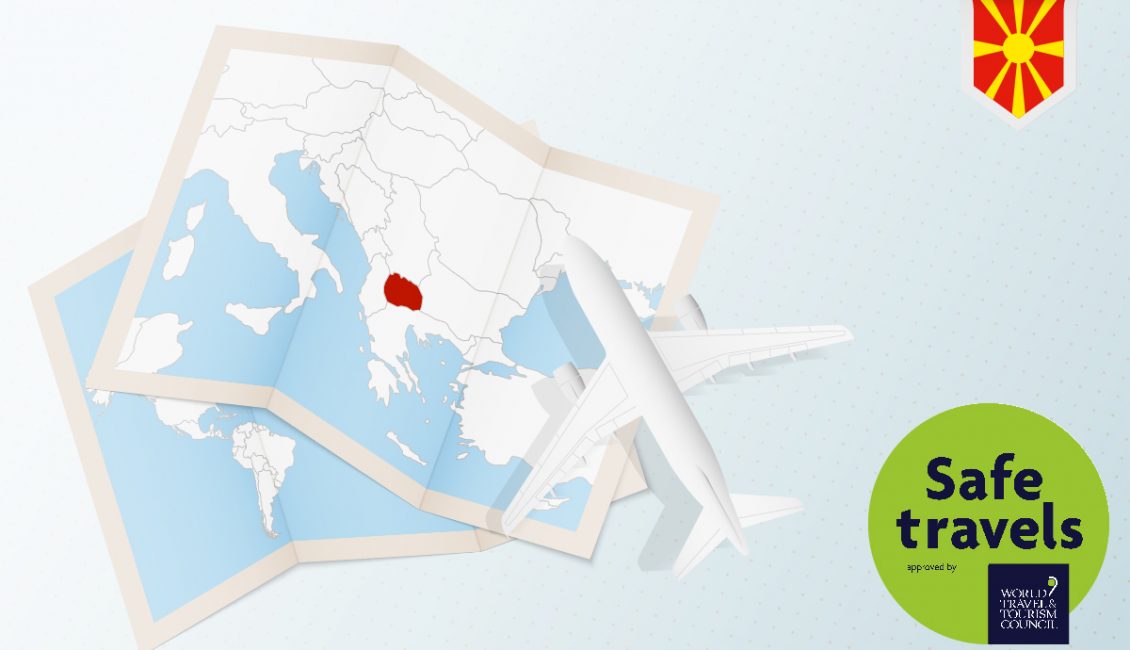 VISIT MACEDONIA – WE ARE OPEN!!
Entry to Macedonia: there is no requirement for passengers arriving from any country to self-isolate and no PCR test is required, you may still need to self-isolate for health reasons if you have coronavirus, or if you are waiting for the outcome of a PCR test.
Land border crossings in Macedonia are open for movement of passengers and vehicles except the borders with Greece. However, neighbouring countries may have different entry and exit restrictions on their side of the border.
Skopje International airport and Ohrid Airport "St. Paul the Apostle" are open for commercial flights, but with reduced schedules. Please check before traveling.
Coronavirus (COVID-19) protocols in Macedonia are in accordance with WHO standards!
TOURISM RELATED PROTOCOLS
Public transport and taxi services are permitted to operate. Protective face coverings must be worn when travelling on public transport.
Restaurants, cafés, and barsremain open with social distancing and other measures in place. These businesses are allowed to remain open, including shops in shopping malls, betting establishments, and grocery stores. They may operate with reduced working hours and limits are placed on the number of people entering shopping facilities at any time.
Beaches and swimming pools are open for use while health and safety protocols are in place including wearing of face coverings and social distancing.
All accommodation establishments operate in strict compliance with the requirements which include specific measures to protect the health of tourists with high hygiene. The accommodation establishments are ready for normal functioning of and have taken the necessary anti-epidemic measures of the Ministry of Health to operate in the conditions of COVID-19. Some of the hotels and restaurants made "extra mile" with installing professional anti-virus and anti-bacterial air treatments.
Tourist attractions, museums and National Parks are all operating and can receive visitors in compliance with the Protocols issued by the Ministry of Health. An individual plan for its operation is in place for each establishment in accordance with the recommendations and guidelines of the national and regional public health authorities to limit the Coronavirus infection.
Public spaces and services: Wearing of protective face coverings is required when visiting indoor public spaces, such as markets, post offices, health institutions, shops, banks, including when using public transport. Protective face coverings are also required outside, except in certain circumstances including:
playing sports while respecting all other relevant health protocols; Group sports are prohibited.
when driving in a private passenger vehicle if alone or with persons with whom you live;
when in the yard of a family home alone or with persons who live there;
while sitting in cafes, restaurants or other catering facilities which respect all other relevant health protocols;
if younger than 6 years old;
if required to wear another type of job-specific protective equipment;
if you have a recognised health condition.
Other measures include cancellation of some cultural and sporting events; restrictions on large gatherings in public areas and closure of some schools and universities.
Other businesses including education and training centres for adults, as well as exam centres and driving schools, gyms and outdoor individual sports practices have been allowed to resume work with social distancing and other measures in place.
Information about new measures and protocols:
N. Macedonia https://koronavirus.gov.mk/en
or contact your partner Tour Operator from Macedonia for best support
With cooperation and supervision of World Travel and Tourism Council (WTTC),our NAITM together with the Ministry of Economy is working to be part of the travel destinations with safety and hygiene travel stamp.
Safe Travels stamp allows to differentiate destinations with enhanced standards for safe travel.